so I am blogging. I already miss my daddy so much.He was this tall,handsome and loving man that everyone seemed to adore. I have always said that there were 3 men in my life(well since my granddaddy died) that meant everything to me, Joe(my husband), my son, and my daddy. I am questioning things now. Like, did I tell him that I loved him enough, did he know how much I adored him,that I thought he was one of the most handsome men in the world,and that I was proud to be his daughter. I wish I would have went to see him more. Of course, none of this matters now. He is gone. I will never get to hear his voice or spend hours on the phone w/him,chatting about absolutely nothing. Just wanting to talk to each other. I can't believe this. I just want to know why? Why did he have to die? My little boy probably won't even remember him and it breaks my heart. I don't know who to be ticked off at. I want to blame someone. My poor baby doesn't have grandparents on my side of the family now. I lost my mom in 2005. May 10th to be exact. Now, my daddy. My sweet daddy. My heart is shattered into a million pieces and if it were not for my son, I don't know what I would do. It feels like everyone that I love, that I treasure, they die. My granddaddy,my granny,my cousin Clinton,My mom and now my daddy. WHY? What did I do? I have lived my life as a good person. I have not made my past(didn't have a great childhood)be the center of my world. I have let things go, forgave people,made myself realize that life is too short to be mad all the time. And boy, if you only knew my story, you would understand why I would want to be mad at the world. But I am not. I am a Christian, I love my son more than life itself, I am faithful to my husband,I am a good person. I don't do drugs,I don't drink that much and I do whatever I can for others. SO what is it-someone please tell me, why do I keep losing loved ones?

Here is a pic of my daddy. He's holding Aiden when he was not even a week old. He was so proud of him-the only grandchild he had.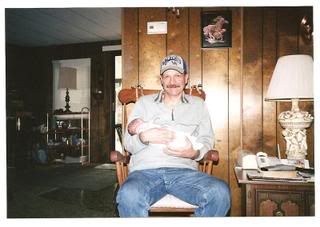 To all of you that have sent me emails,texted me on my cell phone, called me,and left me messages on here, Thank you. You will never know how much your thoughtfulness means to me. It's friends like you, that keep me sane at times like this. I wish I could hug all of you :(
Thank you again, and please continue the prayers for my family. My grandma isn't doing so well. She's lost her baby. My daddy was one of four boys and he was the one that ALWAYS helped them. He loved his parents so much and was a big momma and daddy's boy. He would have done anything for them, and they are devastated, as one could imagine.