I bought this bag several years ago at TJ Maxx for like $25. It's just the right size for the things you need and not so big you pile it with silly stuff. I have so many bags that I don't know what to do with lol, so tomorrow I will probably have a completely different one...well depending on what I wear haha.
I thought this looked fun so I thought I would play too! I got the idea from Lisa
Here are the rules:
A. Post a picture of whatever bag you are (using) today - not last weekend when you and your hubby went out to that fabulous restaurant. No cheating!!! AND it's contents!! EVERYTHING! Yes, even THAT!
B. Tell us how much it cost. This is a no-judgment zone -- there will be no ridiculing or eye rolling here. And, if there is a story to go along with how you obtained it, I'd love to hear it.
C. Now tag some fellow bloggers and link back to this post sopeople know why you are posting pictures of your bag.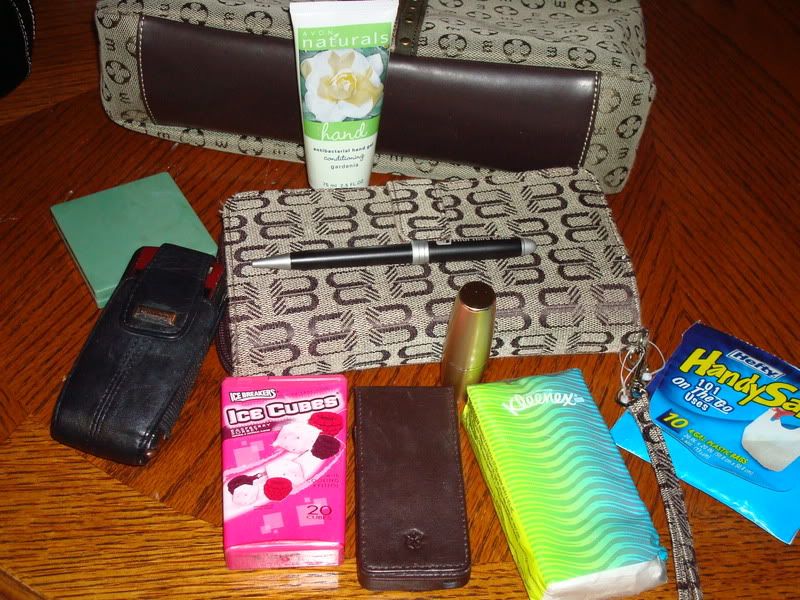 Items in my bag: Avon Hand sanitizer, Blackberry,Clinique make-up compact,Avon lipstick,Wallet and pen,Handy sacks(for aiden's messes lol),Kleenex(b/c we have sinus infections),Gum,and my wonderful Zune MP3 Player.
Note: I change purses more than I change underwear so tomorrow I may be carrying a completely different purse lol!
I tagged:
I will just do three blogs....
Susan
Jess
Kelli